About Us
Eric B. Phillips
I have been a resident of Manheim Pennsylvania for 32 years. In fact, I am the longest standing owner of our historic property on the Square since constructed in the late 1800s. I take personal pride in renovation and maintenance of this old building. I was born and raised in Bel Air, Maryland, and am a 1979 graduate of Frostburg State University, Frostburg, Maryland. My professional background is in tax, venture capital, business planning, audits, QuickBooks computer support, consulting, internal audit and other services. A certified public accountant since 1981, I relocated from Baltimore to Manheim in 1989.
I am a member of the American Institute of Certified Public Accountants, Pennsylvania Institute of CPAs: professional standards set at the highest level. I am licensed in both Pennsylvania and Maryland with minimum 40 hours annual continuing education obtained and exceeded and participant in their peer review program since its inception.
Did you know licensed CPA's are the only individuals allowed to call themselves "accountants"? This PA law was established to clarify terminologies used and often blurred in marketing literature.
Active in the community with the current role as treasurer to Stiegel Glassworks 1976, I have served in a variety of roles including the Mayor of Manheim, Boro council member, founding member of the Manheim Downtown Development Group and past President – our Main Street™ program.
I have even tended the grills in the world's largest chicken BBQ (Sertoma). I am a member of our Chamber of Commerce, and church member where I play the saxophone. I am married to a wonderful wife with 2 awesome daughters.
Press Release -- MANHEIM May 23, 2021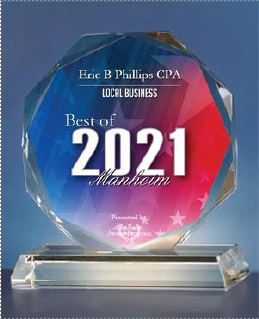 FOR IMMEDIATE RELEASE
Eric B Phillips CPA Receives 2021 Best of Manheim Award
Manheim Award Program Honors the Achievement
Eric B Phillips CPA has been selected for the 2021 Best of Manheim Award in the Local Business category by the Manheim Award Program.
Each year, the Manheim Award Program identifies companies that we believe have achieved exceptional marketing success in their local community and business category. These are localcompanies that enhance the positive image of small business through service to their customers and our community. These exceptional companies help make the Manheim area a great place to live, work, and play.
Various sources of information were gathered and analyzed to choose the winners in each category. The 2021 Manheim Award Program focuses on quality, not quantity. Winners are determined based on the information gathered both internally by the Manheim Award Program and data provided by third parties.
About Manheim Award Program
The Manheim Award Program is an annual awards program honoring the achievements and accomplishments of local businesses throughout the Manheim area. Recognition is given to those companies that have shown the ability to use their best practices and implemented programs to generate competitive advantages and long-term value.
The Manheim Award Program was established to recognize the best of local businesses in our community. Our organization works exclusively with local business owners, trade groups, professional associations and other business advertising and marketing groups. Our mission is to recognize the small business community's contributions to the U.S. economy.
SOURCE: Manheim Award Program

CONTACT:
Manheim Award Program
Email: PublicRelations@2021community-honor-announcement.net
URL: http://www.2021community-honor-announcement.net
###
Business History
Founded in 1991 to serve small businesses and individuals in a regionally convenient office on the Square of Manheim, I take care of local community needs but also Lancaster, Harrisburg, Lebanon, Lititz and points in between. With telephone, telecommuting and the delivery services I can beat the borders to entertain client requests anywhere.
Business Specialties:
Tax preparation: individuals, corporations, partnerships; most electronically filed at no additional cost. QuickBooks installation, training and support.
Small business consultation and support.
Payroll quarterly tax reports for withholding, unemployment reporting.
Payroll annual tax reporting, employee W2s.
Vendor annual 1099s.
Sales tax monitoring, preparation and submissions.
Businesses are diverse and I strive to tailor services to meet individual needs.
Now including payment through PayPal, Visa, Mastercard, Discover, American Express, and of course cash and checks.
Client Reviews:
Add your own on our "Contact" page by leaving us a message.

February 2, 2017
New Tax Client on 02/01/2017
Published on RateABiz, ***** five stars)
My husband and I were dreading filing our taxes this year. We had a CPA that had helped us in years past, but we were not too sure what he was doing was really "by the books" or "up to IRS standards". Eric took a look at everything and from the second he completed the paperwork I felt one million times better! He also went out of his way to assist us with having a great deal of fees removed from a 2013 tax payment my husband and I were paying on! He answered questions honestly and to the point. On a personal level, he was very easy to speak with and made you feel very comfortable. I had to bring my five year old along to the appointment (something I tend try to avoid if possible) not once did he make me feel like she was an annoyance with her thousands of questions. He was so patient and kind. We can say with absolute confidence we will, without a doubt, be recommending him to EVERYONE that ever has any accounting or tax needs! No matter where life leads us, we will continue to use him as well!
September 22, 2015
Long Standing Tax Client
(Confidential)
Source, Rateabiz.com
Thank You
Eric is a wonderful accountant. He is not only knowledgeable about latest tax codes but he is a fine human being. For example...My wife passed away a year and a half ago. I was finding it very difficult to deal with "estates" and all the other tax issues.When I told Eric the mess I was in he stepped up and did an incredible job getting my taxes (and me) back into shape. He really was a great friend who provided great professional services.
February 16, 2015
Tax and Accounting Support Client
(Confidential)
Source, Rateabiz.com
Accounting 101
Eric has been doing our accounting for many years, both with our business and personally. He has always been very professional in his approach, has given good advice, and is honest. We are very pleased."
February 15, 2015
Individual Tax Support Client
(Confidential)
Source, Rateabiz.com
Time for a change
After years of using the same accountant to do my taxes, I decided it was time for a change. I really wanted , basically, a second opinion on what was previously being done. I'm always a little nervous about making changes,but Eric's personality put me at ease. He walked me through my tax return, making comparisons to last year,and explained things as we went along. He found deductions that were missed and gave me good advice. I walked away feeling that his service was very professional and thorough. I would highly recommend Eric to anyone who might need someone to take a 'fresh look' at their tax return. I will definitely return next year.
November 21, 2014
Tax Consultation
(Confidential)
Source, Rateabiz.com
Professional, knowledgeable, and helpful!
We contacted Eric to do a year-end tax review for us; we were not previously clients of his and were unhappy with our prior accountant. Eric provided exactly what we needed. He is very professional and knowledgeable and truly took the time to review our situation, discuss the alternatives, and help us arrive at a decision. We also liked the personal attention of a small business and knowing that Eric himself would be handling our situation, not someone we had never met. We are planning to also have him prepare our tax returns this year and would definitely recommend him to others. We just want to mention also, that because he doesn't have a staff and a lot of overhead, his rates are much more reasonable than some of the other firms in the area.
August 23, 2014
Individual Tax Client
(Confidential)
Source, Rateabiz.com
Made doing the taxes an enjoyable experience
We went to Eric after out last accountant retired. Eric took the time to meet with us and review our past returns and to explain our options going forward. With his secure email, it was fast and easy to send sensitive information in order to get our returns completed and filed. Eric responded quickly to our questions and promptly made requested revisions to our returns so they could be filed. He also took care of electronically filing the returns so that they could be submitted more timely.
August 22, 2014
QuickBooks Support Client
(Confidential)
Great, Proffesional Service
Very Professional Service. Had Eric come out a second time to fix what went wrong with my QuickBooks files the first time. He had a folder with detailed instructions along & fixed in a few minutes what had taken an hour or more the first time to figure out. Great & Friendly, and Prompt Service!!! Would Definitely Recommend to anyone!
August 4, 2014
Individual Tax Client
(Confidential)
Source, Rateabiz.com
Recommended
As a new client (referred to him) he was patient and listened to what I was looking for. I have taxes from Delaware, Pennsylvania and California. He asked questions and deftly worked through my tax situation. He suggested a course of action and was open to my input. The end result was a trusted relationship and a great foundation for years to come.
July 21, 2014
Individual Tax Client
(Confidential)
Eric B. Phillips, CPA - Outstanding
Extremely thorough, leaves no stone unturned in his services provided to our family members in preparing our taxes ever since he took us on as new clients. Very flexible in working with his clients to meet their schedule and still meet all objectives. Very, very personable, takes the time to explain all details and answer and questions his clients may have. He puts his clients at ease. Through his services I have come to know Eric as both an true professional and an outstanding asset to our community.
June 15, 2014
Small Business Consulting Client
(Confidential)
Eric got me back on track!
Being a new business owner and trying to do everything myself (including accounting) was daunting. I needed help and a myriad of questions answered in regard to QuickBooks Online. I met with Eric and in no time he had my accounts fixed up and all my questions answered!
February 3, 2014
Contractor
(Confidential)
Thanks Eric
Our business has used the services of Eric Phillips for approximately 13 years. Not only was he willing to help our family-owned business with our tax filings; he also taught me the regulations and how to prepare monthly, quarterly, and yearend filings. As a result we only had to visit his office once every quarter. Not only was this cost effective for our company but it gave me valuable skills which I now use at my new employer. Thanks Eric for the skills I have learned under your capable instruction. I would recommend his services for your business or personal needs.