Welcome!
Office Front, Market Square, Spring 2017
Accounting and Tax — Manheim, Lititz, Mount Joy, and Beyond Services Tailored to meet your needs.
I am dedicated to providing clients with professional, personalized services and guidance in a wide range of financial and business needs.
On this website, you will find summary information about my accounting practice, including a list of services. I have also provided you with online resources to assist in the tax process and financial decision-making. These tools include downloadable tax forms and publications, financial calculators, news and links to other useful sites.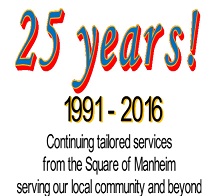 2016 – I can help you plan for years end be it S-Corporations, partnerships or LLC, individuals too. Give a call for an appointment.
A personal milestone too - this is my 25th year assisting individuals and small businesses with services tailored to meet their needs. I am looking forward to 2016 - 2017 marking a quarter of a century in business on the Square of Manheim. 25 years - Wow!
We welcome any questions or comments you may have. Feel free to contact us at any time:
CLIENT ALERT 11/25/2016: IRS has published that a new law requires the IRS to hold refunds until mid-February 2017 for people claiming the Earned Income Tax Credit or the Additional Child Tax Credit. In addition, new identity theft and refund fraud safeguards put in place by the IRS and the states may mean some tax returns and refunds face additional review.
Hours of Operation
Services are provided at my office, over the phone, emails or at your site. Therefore, hours are by appointment.
New Tax Season Hours: generally M-F 8:30am – 7pm est, Saturday and Sunday, by appointment.
Quickbooks Continued Certification
Intuit has certified Eric B Phillips CPA
in their ProAdvisor program for QuickBooks Online 2017

Intuit has certified Eric B Phillips CPA
in their ProAdvisor program for QuickBooks Desktop 2014.
02/22/2016 - IRS Refunds "Where's My Refund?" - Click Here
Personal experience, my efiled clients using direct deposit have received their refunds in 6 business days - reality. The published IRS narrative in their YouTube posting is 21 days - to watch Click Here
NEW, now accepting payments from PayPal, Visa, Mastercard, Discover and American Express.
My clients preferring a mailed check refund experienced the 21 day IRS forecast in the YouTube Video. Call if you need help.
Telephone...
(717) 664-4400
Eric B. Phillips CPA
44 Market Square
Manheim, PA 17545
You can also send us a message directly through the contact page of this website.